Home Charter Buses Sunnyvale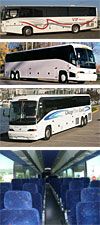 Sunnyvale Charter Buses
Economically Smart Charter Bus to Satisfy All Group and Individual Needs
The best choice in Sunnyvale charter buses has been Nationwide Limousine Service for many years. Our diverse and clean fleet fulfills every transportation need, and our remarkably affordable pricing scale fulfills every budget need. Whether you want to explore the city in style or are looking for a decadent night out, we have the perfect vehicle for you. As if that weren't enough, our wide range of amenities will turn a routine excursion into a luxurious experience. Featured in many of our buses and limousines are:
DVD players, CD changers, state-of-the-art sound equipment with iPod hookups, and LCD televisions
Wet bars and mini bars
Ample storage space
Leather Upholstery
Hot Tubs
Disco Floors
Customizable light shows
Stripper Poles
A slew of other features and extras that will blow you away!
Our customer testimonials speak to the level of satisfaction we provide. When you hire NLS Limo you are not just paying for a charter bus company: you are receiving the epitome of customer care, smooth driving, and attention to detail. To start arranging the details today, call our toll-free number at 1-800-339-8936!
A Clean, Affordable, and Diverse Fleet is Only a Phone Call Away
Do you need a ride from the airport to the hotel? Try out our impressive Cadillac Escalade. Have you ever been driven to a concert in a 1947 Oldsmobile? Are you looking for a beautiful old cable car where you can take your wedding or engagement photos? Regardless of the destination, the number of guests, or the occasion, we have the best possible charter experience waiting for you. In the past, some of the more popular destinations with our customers have been:
We never skimp on your experience, and we promise that your time with us will be memorable in the best possible way. To reserve your Sunnyvale charter bus, call us at 1-800-339-8936. We have knowledgeable and courteous representatives waiting all day, every day to answer your questions and handle your reservation.
Call
1-800-339-8936

for your free quote