Home Charter Buses Napa Valley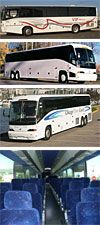 Napa Valley Charter Buses
Superb Charter Bus Service for Groups of All Sizes
If you and your group are looking for professional, dependable and affordable Napa Valley charter buses, you have come to the right place! We have been the preferred Napa Valley charter bus service for many years and look forward to providing bus charter service to residents and visitors to the valley for many years to come. Our approach to providing charter bus rentals is quite simple: Treat each guest with the courtesy and respect they deserve, and provide the best experience for the most affordable rate. This has been the key to our success from the very beginning, and we believe it is also why our guests choose us again and again whenever they need clean, comfortable and reliable charter bus service in Napa Valley.
Call us today at 1-800-339-8936 to reserve our Napa Valley charter buses for your special occasion!
The Perfect Napa Valley Charter Bus for Your Group and Destinations
No matter the size of your group or your itinerary, you can be sure that we have the perfect bus charter the occasion. Our luxury coaches have transported guests to many different kinds of special occasions over the years, including these:
Trips to Las Vegas, Reno and other exciting casino destinations
Amusement parks
Yosemite, the Grand Canyon and other spectacular national parks
Many other exciting destinations!
It has also been our privilege to transport guests to other types of destinations, such as these:
Make Your Napa Valley Charter Bus Reservation Today!
If you are looking for the best charter bus experience for the best value, call us at 1-800-339-8936 to reserve one of our Napa Valley Charter buses today! Each luxury coach in our fleet is immaculately clean and very comfortable and features amenities that make the journey to and from your destinations fun, relaxing and thoroughly enjoyable. For information about which bus charter will be best for you and your group, our rates and availability, please call us today to let us take care of all the details!
Call
1-800-339-8936

for your free quote