Home Charter Buses Sonoma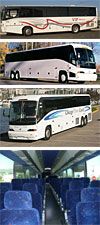 Sonoma Charter Buses
The Preferred Provider of Charter Buses and Other Luxury Transportation
When residents and visitors to the area need comfortable, reliable and affordable Sonoma charter buses, there's only one number they call: 1-800-339-8936. For many years, it has been our privilege to serve the group transportation needs of our Sonoma guests when they want luxury charter buses without the luxury price tag. What sets us apart from other Sonoma charter bus services?
Superb customer service
Each member of our staff has been screened and trained to anticipate and fulfill the needs of each of our guests. Our knowledgeable reservation specialists can answer any questions you may have and will help you select the perfect Sonoma bus charter for your group. Our maintenance team keeps each luxury coach in optimal condition for a problem-free ride, and our custodial team ensures that each coach is immaculately clean for our guests.
Professional drivers
Each driver is a fully licensed professional with many years of experience and a spotless safety record. They are also quite knowledgeable about the best ways to avoid traffic and get around the Sonoma area, the Bay Area and beyond to ensure that your group arrives to its destination on time, every time.
Huge selection of charter buses
No matter the size of your group, we have the perfect Sonoma charter bus to make your trip fun, comfortable and enjoyable!
Affordable rates
We constantly strive to keep our costs low without sacrificing the quality of experience for our guests. We also strive to include as many extras as possible so that when we quote a rate to our guests, that is the rate they pay without the extra fees that other Sonoma charter bus services charge.
Call us today at 1-800-339-8936 to reserve one or more Sonoma charter buses for your group's upcoming event!
Contact Us Today for the Best in Sonoma Charter Bus Rentals
If you have questions about your Sonoma charter bus rental options, our rental rates or to make a reservation, please call us today at 1-800-339-8936. Our luxury coaches are the ideal way to transport you and your group to sporting events, weddings, concerts, Bay Area airports, shopping trips and many other fun and exciting things to see and do. Call us today, and allow us the privilege of transporting your group to and from your upcoming event. We look forward to hearing from you!
Call
1-800-339-8936

for your free quote