Home Charter Buses Oakland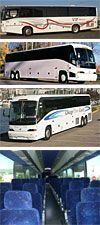 Oakland Charter Buses
Dependable, Professional and Affordable Charter Buses for Groups of All Sizes
Whether you need an Oakland charter bus for a trip across the Bay or across the country, you can rely on NLS Limo to provide the best guest experience for the most economical rates in the Bay Area. Each luxury coach in our fleet is meticulously maintained, immaculately clean and ready to transport you and your group at a moment's notice! Our drivers are knowledgeable and experienced professionals who have passed our rigorous screening process and are trained to provide the level of customer service you expect from the leader in luxury group transportation. If you're looking for the ultimate in comfortable group transportation at the most affordable rates in the area, call us today to reserve one of our luxury coaches for your group!
Call us today at 1-800-339-8936 to reserve our Oakland charter buses for your group!
The Best in Comfortable and Economical Group Transportation
Over the years, it has been our privilege to transport groups to a wide range of different destinations and activities. The one thing each of these groups had in common was a desire to have the most comfortable and enjoyable experience at the most affordable rate. We think that is why our guests choose us again and again for a variety of different trips and destinations, including the following:
Professional and amateur sporting events
Amusement parks
Many other fun, exciting and practical destinations!
Reserve Your Oakland Bus Charter Today!
If you have questions about which luxury coach will be best for your group, our rates, availability and other questions, please call us today at 1-800-339-8936. We are a locally owned and operated business and take a great deal of pride in serving guests from the Bay Area and around the world. If you would like to customize your group's experience or we can help make your trip more enjoyable in any way, please let us know, and we will make it happen! Thanks for relying on us to make your group travel experience fun and enjoyable!
Call
1-800-339-8936

for your free quote