Home Charter Buses Stanford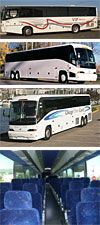 Stanford Charter Buses
Professional Charter Bus Service
When it comes to chartered bus services in the Bay Area, Nationwide Limousine Service has provided the community with unrivaled customer satisfaction and professionalism. Whether your travel needs are small or large, NLS Limo has a coach, limousine, or van that will surpass your expectations. For many years we have serviced the Bay Area and we are proud to be the premiere Stanford charter bus service.
Each vehicle in our fleet is thoroughly maintained and cleaned before each chartered excursion. Our drivers are experienced, fully licensed, and put through screening exams in order to stand by our commitment to excellence. Nationwide Limousine Service is locally owned and operated, which is one reason we pride ourselves on our name and reputation. It is also why we provide you with impeccable customer service and the best rate in the area. Our mission is to continue providing services as the leading Stanford charter bus.
Comfortable, Spacious Group Transportation Options
Transporting residents and visitors around the San Francisco and surrounding Bay Area has been our satisfaction at NLS Limo. When it comes to large group travel nothing beats the comfort and affordability of our coaches and limousine buses. Our line of coaches are just what you need to get you to your next wedding, field trip, concert, sports event, or sightseeing tour. Our staff can arrange to drop you off and pick you up around your schedule, making travel between multiple destinations seamless.
Some of the amenities offered on our coaches are TVs, DVD/CD Players, restrooms, PA system, and adjustable lighting. We have a vehicle for any occasion. Try one of our panoramic view passenger buses for your next sightseeing tour or a VIP/Party Bus for a night on the town. Whatever the event or party give us a call for a free estimate and more information on our full line of vehicles.
Book Now!
If you are interested in reserving a charter bus, call Nationwide Limousine Service today at 1-800-339-8936. Our knowledgeable and experienced staff will help you find the options that are right for you. As your next event approaches keep in mind our availability does fill up quickly, and remember we are available to help you 24 hours a day, seven days a week.
Call
1-800-339-8936

for your free quote