Home Charter Buses South San Francisco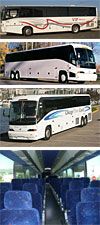 South San Francisco Charter Buses
The Absolute Best in Affordable Charter Buses
Looking for the perfect charter bus does not need to be a frustrating and nightmarish experience. When you book with Nationwide Limousine Service, you are preventing yourself from suffering from the type of hassle associated with other charter bus companies. Our shockingly varied armada of vehicles includes:
Buses
Hummer stretch limousines
Escalades
Limousine vans
Luxury sedans
Mini-buses
VIP Passenger buses and vans
Vintage and classic cars
Many, many other superior cars, buses, vans, and limousines!
You will not need to settle for anything less than the perfect South San Francisco charter bus when you hire NLS Limo. Our professionally trained and screened drivers will lead you wherever you need to go in a meticulously cleaned, polished, and maintained vehicle. Transportation never needs to be a hassle, and we make sure that the hazards of travel are whisked away from your eyes. If this sounds like your idea of a pleasant charter experience, call us today at 1-800-339-8936!
Find Out Why Our Customers Rave About Our Service
Those who have hired us can attest to our preeminent level of customer service and luxury offerings. Regardless of whether you just need a private car to ferry you to a hotel or are looking for a 32 passenger limousine for a raucous bachelor/bachelorette party, we are the only charter bus company you will ever need to look at again. Let our business be your pleasure as you recline on our unblemished leather seats, listen to an iPod play your favorite music through a state-of-the-art sound system, or mix yourself a cocktail in our well-stocked wet bar. With NLS Limo, every trip becomes a journey into luxury's arms. Some of the more popular uses of our fleet include:
Photo shoots for weddings, engagements, and other formal occasions
Trips to the various museums, aquariums, and parks around the city has to offer
Transportation to and from sporting events
Travel to airports, hotels, and homes
Virtually anywhere you will ever need to go
We offer the most affordable, professional, and memorable experiences that you will ever find from a charter bus company. Do yourself a favor, call us at 1-800-339-8936, speak to one of our many highly trained representatives, and begin working with the pinnacle of the charter bus community.
Call
1-800-339-8936

for your free quote