Home Charter Buses San Rafael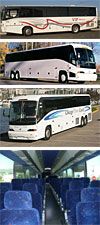 San Rafael Charter Buses
Choose Your Destination
There are so many great things to do and see in the San Rafael, Marin County and the North Bay Area, that it's hard to pick just one. With SanRafael charter buses, you and your group can spend an entire day, weekend or more, exploring the sights and special attractions of the area. Sports fans may want to book a trip to see one of our two NFL teams, the 49ers and the Raiders. For baseball, there's the SF Giants and the Oakland A's. For hockey fans, the San Jose Sharks. Don't forget our two basketball teams, the Sacramento Kings and the Golden State Warriors. The Bay Area is truly a sports lover's paradise.
We're not only about sports, however. You can also book San Rafael charter buses for nature trips to attractions like China Camp State Park or to cultural events in San Francisco like the theater, opera, ballet or symphony. If you don't want sports, nature or culture and you just want to shop, we can get you there too.
Possible travel destinations could include:
We can even pick you and your group up at the airport and drop you off there after your visit. Our charter buses will get you to any location in the Bay Area and beyond. Our buses are clean and our drivers are friendly.
The Best Amenities
San Rafael charter buses are spacious with plenty of room for both passengers and their equipment. Planning a ski trip or a golf outing? We can accommodate all of your sporting gear too. Not only is our seating comfortable, we offer our passengers many amenities to make their time with us as enjoyable as possible.
Some of our amenities include:
LCD TVs
CD players
DVD players
Tinted windows
PA system
And much more!
San Rafael charter buses come in a range of sizes to fit any group. A few of the types of vehicles we offer include the following:
Call Us Today to Reserve Your San Rafael Charter Bus Rental
Not only do we provide clean buses and safe drivers, but we also offer competitive, affordable rates. Call today at 1-800-339-8936. Reservations specialists are standing by 24 hours a day, seven days a week to answer your questions and assist you in your booking.
Call
1-800-339-8936

for your free quote