Home Charter Buses San Carlos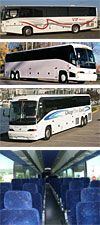 San Carlos Charter Buses
Affordable Luxury Charter Bus Rentals
There are those moments in life when you want to celebrate a special occasion or arrive at an important event in grand style. Whether that event is a ceremony, live music concert or sporting event, you want to arrive in comfort and maybe even get noticed. The people of San Carlos and the surrounding Bay Area know to call Nationwide Limousine Service when they need to book a top-of-the-line charter bus that is the height of both luxury and affordability.
There are many amenities available in our charter buses and many reasons to choose us, including:
The best bus models: We have the best buses available. If you are looking for comfort and style we have you covered. Some of the amenities our coaches feature are tinted windows and comfy plush seats, entertainment systems including CD and DVD players with Surround Sound and PA systems. Book a coach with a custom bar and drink a toast to celebrate a momentous event. There's always plenty of luggage space available too.
Affordable & economical: We are not only competitive in the Bay Area, we beat our competition by offering the best rates and services.
Outstanding customer service: The foundation of our business is customer service and we do that better than anyone. This is because we pay attention to the little things to make sure our customers have a worry-free trip. This is something we take great pride in which is why we take steps to ensure that our drivers are fully licensed and the best in the field.
Call 1-800-339-8936 now and book your San Carlos charter bus!
It's the Trip not the Destination
Sometimes it's the trip and not the destination that we remember the most and getting there is always half the fun. Let us take care of the details while you and your party enjoy traveling in comfort and style. Let us deliver you safely to events, including:
Reserve Your Charter Bus now!
We have reservation specialists standing by to answer all of your questions concerning availabilities, amenities and rates. So call Nationwide Limousine Service today at 1-800-339-8936. We're here 24 hours a day, every day of the week!
Call
1-800-339-8936

for your free quote