Home Charter Buses Pleasant Hill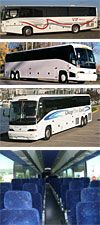 Pleasant Hill Charter Buses
Reliable Charter Buses for Any Special Event
If you are looking for experienced and reliable transportation in the Bay Area, we have the solution for you. NLS Limo is the premier provider of group transportation in the San Francisco area, with several satisfied customers. Our commitment to fulfilling customer requests and delivering a memorable experience, coupled with great value makes us the first choice for companies and private parties alike.
Competitive Rates
Pleasant Hill charter buses are the best option in transportation for any special occasion from office outings to sporting events, and more! Our variety of luxury coaches means we have that special theme you have been looking for, at the most affordable rate. By booking your trip with NLS Limo, you can relax and enjoy yourself while we take care of the rest!
Charter Fleet
We have custom vehicles perfect for any group, whether it's a just a few people or a large wedding party. We have luxury coaches that appeal to many different tastes and requirements. Our bus charters have tons of extra space and offer a variety of options including tinted windows, plush seats, lavatories, DVD and CD players, LCD TVs, and more.
Unsurpassed Customer Service
NLS Limo is committed to providing a great experience for our guests and helpful support whenever they need it. Our bus charter fleet is meticulously maintained to the highest standards, which means our guests can expect a reliable trip, while our drivers are all trained and licensed to provide a fun and safe experience for your group.
Call today at 1-800-339-8936 to reserve the Pleasant Hill charter bus that is perfect for your group!
The Right Choice for All of Your Special Events
You can count on us to be on time for your special occasion. We have experience handling the biggest life events for many of our guests, including:
Whatever your needs and budget, we have the charter bus perfect for you. By reserving charter bus service with us, you can leave your worries behind and enjoy the experience.
Reserve Your Pleasant Hill Charter Bus Today
If you would like more information, or are ready to reserve one of our Bay Area charter buses please give us a call at 1-800-339-8936. Our friendly customer service specialists are available anytime, 24 hours a day, 7 days a week. They will help you find the right charter bus for your occasion at the best rate. Give us a call today!
Call
1-800-339-8936

for your free quote