Home Charter Buses Pittsburg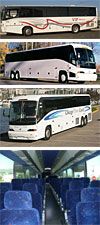 Pittsburg Charter Buses
Affordable Charter Bus Service, Amazing Experience
If you want to have a great charter bus experience, at an extremely competitive price, we have the service you have been looking for! NLS Limo has a variety of charter bus services to fit any size group or budget. We have been proudly serving the bay area for many years and are committed to providing a safe, reliable, fun experience for small or large groups 24/7/265. We believe the best way to keep customers coming back time after time is to surpass customer expectations while providing amazing service at affordable prices. Call one of our reservation specialists today to see what we have to offer!
Call today at 1-800-339-8936 to reserve our Pittsburg charter buses for your special occasion!
Charter Bus Service For Any Event Or Destination
No matter what size group you are looking to transport, don't worry! We have the perfect mode of transportation for any occasion or destination. From just a few friends to a huge wedding party, we welcome anyone looking for a fun experience! Our professional drivers will safely take you wherever you need to go. Our luxury coaches are available to transport guests to many different venues including:
Sporting events such as Kings, or 49er's games
Any other destination on your list!
Why Choose NLS Limo?
Whether your group is just going a few miles or cross-country, you expect great safe service at a fair price. When you reserve one of our Pittsburg charter buses, we guarantee you will receive:
The cleanest charter buses for rent
We have a team of professionals dedicated to making sure each of our luxury coaches is impeccably clean and ready to go prior to each outing, assuring that we deliver a safe and healthy experience for our guests.
Discreet, experienced drivers
Each driver on our team is fully licensed and experienced in making our bus charters the best they can possibly be, which includes safe and timely transportation and a professional attitude.
Customer support whenever you need it
Our team of reservation specialists are available 24/7 to answer any questions about our bus charters and reservations. Please give us a call at 1-800-339-8936 anytime, day or night!
Don't Delay, Call Today to Make your Pittsburg Bus Charter Reservation!
If you are looking for a unique and memorable charter bus experience anywhere in the Bay Area, call us at 1-800-339-8936 to reserve one of our charter buses today! We looking forward to speaking with you!
Call
1-800-339-8936

for your free quote