Home Charter Buses Palo Alto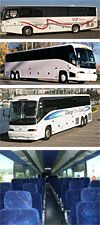 Palo Alto Charter Buses
Reliable and Affordable Charter Buses
Finding a charter bus for an event, trip, or special occasion involves in-depth research and easy access to a reliable charter bus company. At Nationwide Limousine Service, a safe, affordable, and invaluable Palo Alto charter bus can be obtained in a variety of sizes and styles. Many of these buses offer an extensive list of special amenities, perfect for enhancing any special trip or occasion. From luxury buses to party charter vehicles, any individual or team of individuals will surely enjoy their experience.
The Benefits of Choosing a Charter Bus
There are many helpful benefits to choosing a charter bus from NLS Limo, many of which allow any trip or occasion to run easily and smoothly. These benefits and amenities of passenger buses include:
Plenty of luggage space
Tinted windows
LCD television sets and DVD players
LED and fiber optic lighting
iPod docking stations
When it comes to choosing one of the many limousine bus options available at NLS Limo, passengers may enjoy:
20-inch LCD television
DVD and VCR
Halo and mood lighting
Plush leather seating
Extra luggage space and compartments
Ability to seat up to 32 passengers, depending on bus size
Many of these valuable amenities are especially important for enhancing the atmosphere of an event, whether it's a business party or prom celebration.
Book Your Transportation Today!
Luxury and larger charter buses are engaged rather quickly, especially during the holiday season. When booking a charter bus, it is wise to plan and book in advance. By taking the time and preparation, any individual planner may often have their pick of the many variety of buses available. Our company is experienced at providing only the best, upscale services for any function. Call NLS Limo today at 1-800-339-8936, or use our online contact form to determine which bus fits your specific needs.
Call
1-800-339-8936

for your free quote