Home Charter Buses Pacifica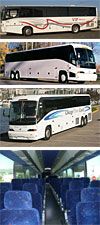 Pacifica Charter Buses
When a group of people needs to travel efficiently to, from or around a big city, a charter bus is often the best route to take. A Pacifica charter bus can grant travelers the privilege of seeing the scenery in style, while also making sure safety and affordability are on the itinerary.
When groups, tours or other organizations need a charter bus, though, they may not know where to look. Nationwide Limousine Service is known for offering quality transportation for individuals or smaller groups, but Nationwide Limousine Service also provides charter buses for medium-sized and larger groups of travelers. Making the experience hassle-free from start to finish, we offer everything that groups are seeking when they want to get from point A to point B together.
The fleet of vehicles offered by NLS Limo is as varied as the groups which utilize their many amenities. Sizes range from a luxury van which carries up to 8 passengers to a VIP vehicle that can safely hold up to 55 occupants. In between there are vans and buses that can hold dozens of people en route to parties, weddings, sports competitions or travel tours. Our vehicles have also safely taken passengers to and from shopping excursions, church outings and professional expos and conventions. Vehicles equipped with wheelchair lifts are available, while some never have to stop with restrooms on board.
The interior of the vehicles, though, may make passengers reluctant to get to their final destinations. Many feature leather seats, LCD television screens, PA systems, hookups for iPods as well as CD and DVD players. On the party buses, which hold between 16 and 33 partygoers, there are options for mini bars, fiber optic lighting and shades to ensure privacy. Some vehicles even feature a dance pole, while others offer multiple TVs, mood lighting and LED lighting.
Our drivers are thoroughly licensed, pleasant and professional. Some might assume that transporting groups in luxurious comfort is financially out of reach, but at Nationwide Limousine Service, we give customers as many options in pricing as they do in traveling. Availability and prices are available online, or by contacting us at 1-800-339-8936.
Call
1-800-339-8936

for your free quote