Home Charter Buses Orinda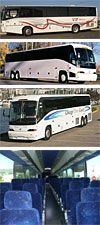 Orinda Charter Buses
Hiring An Orinda Charter Bus
The community offers a variety of unique experiences including hiking trails, scenic parks, performance theaters, film festivals, and sporting events such as water polo and swimming. Furthermore, Orinda is near Berkeley, San Francisco, Walnut Creek, and Oakland. With so many thrilling recreational options paired with the affluent professional opportunities, it is important to know which company to call when you are in need of group transportation. Orinda charter buses are increasingly recognized as the most affordable, comfortable, and practical way to transport people to a variety of Orinda-specific, and other personal and business destinations like:
…and many other places near and far!
Our Impressive Fleet of Buses Designed For Your Enjoyment
Regardless of whether you have family in town or corporate is coming for a visit, we know that you want to impress your visitors and offer them a relaxing, enjoyable experience. If you need to transport more people than can comfortably fit into a regular vehicle, consider our impeccably clean fleet comprised of:
The above buses come with a variety of options. We at NLS believe that the ability to customize your travels optimizes the client experience. Travel affordability in style while enjoying all of the amenities that you want by choosing from:
State-of-the-art televisions
Spotless and roomy lavatories
High tech DVD and audio players
Glamorous mini bars
Comfortable leather seats
Party decorations
…and so much more!
Contact Us Day or Night for Exceptional Client Services
If you are seeking a chauffeur for your day trip, long-weekend travels, corporate events, or other adventures, call us at 1-800-339-8936. Busy day? Don't worry. Call us after business hours. Our customer service specialists are available 24 hours a day, 365 days a year. Nationwide Limousine Service is locally owned and operated, and we pride ourselves on exceeding the expectations of each and every rider that we have the pleasure to serve. Over the years, we have earned a reputation for wonderful customer service. In fact, as you will see in our customer reviews, our returning guests have commented on our top-notch communications. Call us to experience first-hand the Nationwide Limousine Service difference!
Call
1-800-339-8936

for your free quote