Home Charter Buses Newark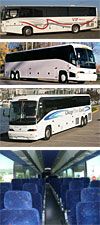 Newark Charter Buses
What is a group of people to do when they need to get around in comfort and convenience? For those who plan or organize group outings, transportation is usually a major consideration. A Newark charter bus, limo van or party van is appropriate for countless occasions: wedding ceremonies, tours and other travel-related expeditions, parties or industry conventions. Nationwide Limousine Service offers luxurious transport to all of these and many more, making the provider a fitting choice for any gathering.
The vehicles provided by NLS Limo span a wide array of sizes, purposes and amenities. For groups who simply need to get to the airport on time or attend a business expo with colleagues, luxury vans and buses are ready to go. From a limousine van that holds 8 with luggage space to spare, to a VIP bus that holds 20 and includes a wheelchair lift, there are riding options for everybody. Fully licensed and professional drivers take passengers wherever they need to be, on time and in style.
For those en route to a celebration, there are several different party vans from which to choose. These festive rides can hold up to 33 partygoers and come equipped with ways to refresh, relax and entertain. Guests can choose from vehicles that feature mini bars, mood lighting, televisions, CD and DVD setups, and portals for iPods. Some even offer guests the chance to take a spin around a dance pole, making sure everyone is entertained to and from an event.
Groups wanting to see the sights can do so on any of the larger buses owned by NLS Limo. These can seat up to 55 passengers, and feature a public address system so that speakers can be heard by everyone. Smaller VIP buses are also on-hand to accommodate groups of various sizes. Many of the buses come with blinds to keep others from looking in, as well as panoramic window setups so that those on the inside can take in vista-like views.
Regardless of the type of vehicle or ultimate destination, Nationwide Limousine Service can safely bring a group there. Details on affordability, scheduling and vehicles can be found by calling 1-800-339-8936.
Call
1-800-339-8936

for your free quote