Home Charter Buses Martinez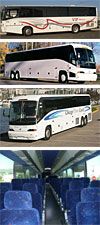 Martinez Charter Buses
If you are looking for transportation for your business, vacation, or entertainment needs, consider a Martinez charter bus from Nationwide Limousine Service. We offer vehicle options including, but not limited to:
Ideal For Any and All Special Events
Martinez is one of the oldest towns in the state, and the area is home to a variety of exceptional activities and opportunities. Whether your plans include business, pleasure, or both, NLS Limo will deliver you and yours safely, efficiently, and comfortably. In fact, many of our customers hire us time and time again for a variety of reasons such as:
Historic downtown tours
Business meetings
Visits to the marina
Company sponsored trips
Group hiking adventures
Bocce ball tournaments
Vineyard tours
…and anywhere else you might like to go!
Luxury Buses with Limitless Amenities and Professional Drivers
Our fleet excels in options, and despite our remarkably affordable rates, the amenities are wide-ranging:
Wet Bars
Lavatories
CD, DVD, VHS Players
Excellent sound systems
Plenty of luggage storage
Beautiful, tinted windows
Tour microphones
Disco balls
…among other entertainment and professional comforts!
Regardless of the choices you make, your bus will always be spotlessly clean, and our drivers go through careful screening and demanding training because your safety and satisfaction are our top concerns. If you are seeking business transportation or a laid-back evening on the town, our locally owned and operated company will exceed your expectations.
Relax & Reserve Your Martinez Charter Bus Today
Rent one of our buses so you can leave the driving to our professional and knowledgeable chauffeurs! Call Nationwide Limousine Service at 800-339-8936 today. Advanced reservations help us provide you the best services as we can customize your experience, and certain dates do fill up quickly. Our expert reservation team is available 24 hours a day, 7 days a week, 365 days per year. In fact, they are standing by right now to answer any questions you might have about rates, amenities, scheduling concerns, and more. We at NLS look forward to serving you!
Call
1-800-339-8936

for your free quote