Home Charter Buses Los Gatos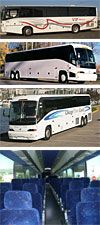 Los Gatos Charter Buses
Affordable Charter Buses for Groups of Any Size
If you are looking for comfortable and affordable Los Gatos charter buses, you are definitely in the right place. We have the largest selection of luxury coaches and charter vehicle in the Bay Area and the most affordable rates around! Whether your group is very large, or just a few friends, NLS Limo has the right charter bus to fit your needs. For many years, we have proudly served the residents of the greater Bay Area and their guests, providing safe, clean and reliable group transportation. We offer service for a variety of different occasions including:
Concerts and Conventions
Trips to the Aquarium of the Bay, MOMA, the California Academy of Sciences
Youth Gatherings
Many other fun and exciting events and destinations!
Call us today at 1-800-339-8936 to reserve a Los Gatos charter bus for your special occasion!
The Leader in Los Gatos Charter Bus Services
We are a locally owned and operated company serving Bay area residents and the many visitors who travel to the San Francisco area. Our service-focused approach to the guest experience is foundation upon which we built our business and we believe it is an essential part of the charter bus experience. When you choose NLS Limo as your group transportation provider, we promise to deliver:
Clean Luxury Coaches: Our team of professionals thoroughly cleans and inspects each luxury coach to ensure that it meets our standards and exceeds your expectations for group transportation.
Licensed, Courteous Drivers: Each driver is fully licensed, experienced professional who will ensure guests' safety and comfort while providing a wonderful experience for every guest.
Customer Support Around The Clock: If you have any questions about the services we provide, rates, availability, or have a modification to your reservation, contact us anytime at 1-800-339-8936. Our knowledgeable reservation specialists are available 24/7/365 to help you.
Call Today to Make Your Los Gatos Charter Bus Reservation
If you're planning an upcoming event, we would be honored to be part of your special occasion! We pledge to deliver a quality memorable experience at the best price in the Bay Area. We have a variety of luxury coaches and amenities to choose from and our staff is committed to the highest levels of customer service and guest satisfaction. Please call us today at 1-800-339-8936 to speak with one of our reservation specialists and reserve your luxury coach today!
Call
1-800-339-8936

for your free quote