Home Charter Buses Livermore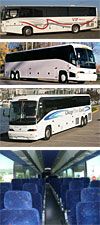 Livermore Charter Buses
Superior Charter Bus Service at Affordable Prices
If you have been searching for professional, discreet and affordable Livermore charter buses, we can end your search. NLS Limo is the premier charter bus service in the Livermore area for dependable and safe transportation. Our commitment to customer service shines through as we treat all of our guests with courtesy and respect, approach to providing charter bus rentals is quite simple: Treat each guest with the courtesy and respect they deserve, and provide the best experience for the most affordable rate. This has been the key to our success from the very beginning, and we believe it is also why our guests choose us again and again whenever they need clean, comfortable and reliable charter bus service in Napa Valley.
Call us today at 1-800-339-8936 to reserve our Livermore charter buses for your special event!
The Perfect Livermore Charter Bus for Any Group or Destination
Rest assured that we have the right bus charter to fit any occasion, regardless of group size. Our experienced drivers will safely transport your group wherever they wish to go. Our luxury coaches transport guests daily to a variety of different venues including:
Amusement parks
Other exciting destinations!
What Sets Us Apart From The Rest?
Nationwide Limousine Service is a locally owned and operated company committed to serving Bay area residents and visitors to a quality transportation experience. Our client-focused approach is the cornerstone of our business and we believe it is the reason our guests keep coming back for our charter bus experience. When you rent one of our Livermore charter buses, you can expect the following:
Impeccably Clean Bus Charters
Our team of professionals thoroughly cleans each luxury coach to high standards, so we can provide a safe and healthy atmosphere for all of our guests.
Professional Drivers
Every driver is fully licensed, screened and trained to make our guests' experience a memorable one while providing safe, comfortably and timely transportation.
Customer Support 24/7/365
If you have any questions or concerns about your bus charter, please give us a call at 1-800-339-8936 any time to speak with one of our friendly reservation specialists.
Reserve Your Livermore Charter Bus Right Away!
If you are looking for the best charter bus experience the Bay Area has to offer, call us at 1-800-339-8936 to reserve one of our Livermore charter buses today! We will strive to fulfill all of your requests at the most affordable rates, while delivering a wonderful experience for your group. Call us today!
Call
1-800-339-8936

for your free quote