Home Charter Buses Lafayette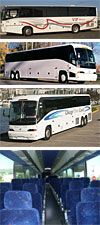 Lafayette Charter Buses
Reliable, Affordable and Professional Charter Bus Services For Any Group
Whether you require a charter bus service for a short trip in to San Francisco or a road trip to Las Vegas, you can count on NLS Limo to provide reliable safe transportation for your group! We offer the best rates in the Bay Area, and are committed to delivering an exceptional guest experience every time. Each luxury coach in our fleet is scrupulously maintained, super clean and ready to transport your group to a wide variety of destinations! Our friendly drivers are experienced professionals, trained in providing the highest level of customer service to our guests. If have been searching for the ultimate in group transportation at the best rates in the Bay area, look no further than NLS Limo!
Call us today at 1-800-339-8936 to reserve one of our Lafayette charter buses for your group!
The Ultimate Comfortable and Affordable Group Transportation
For many years, it has been our pleasure to provide group transportation to a variety of different venues on special occasions. For every group, we strive to deliver an enjoyable, comfortable experience at the most economical rates found in the San Francisco area. We believe our guests choose us time and again over our competitors for our customer service and value. We are pleased to offer service for many different events and destinations including:
Many other exciting destinations!
To ensure a unique and memorable experience for everyone in your group, all of our luxury coaches come equipped with the following amenities:
Clean and comfortable seats
CD and DVD players
Flat-screen TVs
Tinted windows
Plenty of storage
Plenty of extra space!
Reserve Your Lafayette Bus Charter Today!
If you have questions concerning our rates, availability, or would like more information about our luxury fleet, please call us today at 1-800-339-8936. We are a locally owned and operated business and take pride in providing our guests from the Bay Area and around the globe with an unparalleled experience. If you have a special request, or if we can enhance your occasion in any way, please let us know, and we will deliver for your group! We thank you in advance for considering us as a part of your special event and look forward to hearing from you!
Call
1-800-339-8936

for your free quote