Home Charter Buses Hillsborough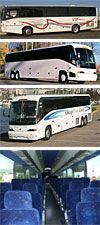 Hillborough Charter Buses
Unparalleled Charter Bus Services
The things that make Nationwide Limousine Service the top of the line when it comes to limo and charter bus services are numerous. For years, we have held a position of eminent respect among customers because of our unparalleled customer service, surprisingly affordable rates, and wide variety of services and amenities. We don't take the charter bus business lightly, and our dedication to you and your needs is apparent in everything we do. Some of the reasons that we're continuously the most popular Hillsborough Charter Bus company are:
Meticulous attention to detail: Once you book our service, your worries are over. Our highly trained and dedicated drivers will make sure that you get where you need to go when you need to get there.
Gigantic fleet to choose from: Have you ever wanted to cruise around town in a convertible Rolls-Royce? Do you need to find a vehicle large enough for 32 people that also comes equipped with a dancing pole? Whether you are looking for a quiet and comfortable SUV to take you from the hotel to the airport or want a memorable night on the town in a stretch hummer limo replete with wet bars and laser-light shows, we are there to make your dreams come true.
Professional and affordable luxury service: For us, charter buses are not just and industry, they are a way of life, and this philosophy is reflected in all of our staff - from our phone representatives to our transportation specialists. We believe that you should have the opportunity to enjoy superior comfort and service at a reasonable cost, and we do our utmost to make this a reality.
Why wait any longer? Call us today at 1-800-339-8936 to begin setting up your charter bus experience.
The Perfect Way to Travel!
Throughout the many years we have been in business, we have cemented our reputation as a high-quality transportation service that offers customers an immaculately maintained fleet for all their travel needs. Whether you are looking to go to a sports game, casino, concert, museum, or just a tour around town, we can offer you the perfect service and the perfect automobile. Our knowledgeable staff is waiting year-round and all day long to take your calls. Don't wait any more, call NLS Limo at 1-800-339-8936 to reserve your charter bus today!
Call
1-800-339-8936

for your free quote