Home Charter Buses Hercules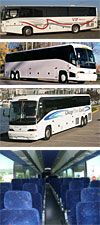 Hercules Charter Buses
Spacious and Luxurious Charter Buses for Every Occasion
NLS Limo has built a reputation for excellent customer service and quality, and our large service area reaches out into the greater Bay Area. We serve many of the surrounding communities, including the city of Hercules. We know there are many underserved groups in the metropolitan area and we are committed to providing the same level of comfort, no matter where you are! Our attention to detail and legendary service ensure you will receive a wonderful experience, without breaking your pocketbook. We are locally owned and operated company committed to fulfilling all of you needs, no matter how many guests you need to transport. We pride ourselves on providing clean, reliable group transportation to Bay Area residents and their guests!
For clean and affordable Hercules charter bus service, call us today at 1-800-339-8936 to reserve your dates!
The Most Exciting Option in Group Transportation
Who wants to charter a boring school bus to get their guests to destination when there are so many other exciting options? We have a wide variety of Hercules charter buses that will suit the needs and taste of any group. From our smaller vehicles to our luxury coaches, we deliver a totally unique experience for your guests, with several convenience options to choose from. Some of the options in our larger coaches include:
Plenty of storage for luggage and gear
Plush, comfortable seats
CD and DVD players
Flat-screen TVs
Tinted windows
Lavatories
PA systems
Tons of extra space!
Our bus charters are a reliable and economical means of transportation for guests with a wide variety destinations, including:
Youth trips
Group parties
Several other special events and destinations!
Make Your Hercules Charter Bus Reservation With Us Today
We have a huge fleet of luxury coaches to choose, however our most popular models fill up quickly, especially on dates that are in high demand. Give us a call today at 1-800-339-8936 to ensure the best selection for you and your guests. We will answer any questions you may have and ensure you will receive the best rates around! Our reservation specialists are standing by 24/7 to assist you in selecting the perfect charter bus for your group. We look forward to the providing your group with an experience they won't forget!
Call
1-800-339-8936

for your free quote