Home Charter Buses Hayward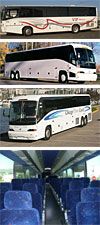 Hayward Charter Buses
The Best in Cost-Friendly Charter Bus Offerings
When you need an affordable luxury charter bus service, look no further than Nationwide Limousine Service. Our immaculately maintained fleet of limos, buses, cars, and vintage automobiles will surely satisfy and fulfill your every transportation need. For years, we have been the pinnacle in the charter bus world, and our timeliness, cleanliness, and professionalism ensure that we will be at the top for years to come. Our vast variety of outstanding services include such things as:
Enormous Selection
In selecting NLS Limo for your charter bus company, you also get the chance to choose the perfect charter bus to suit your precise need. We offer cars like the Toyota Prius or the Lincoln Town Car, but we also corner the market in the stretch limousine, bus, and classic car categories. Whether you need a ride for 2 or 55, we can take care of you. We also offer a variety of Night Club Tour Packages and motorized cable car rentals!
Outstanding Amenities
Each vehicle in our diverse fleet comes equipped with scads of treats and luxury surprises to ensure that your charter bus experience is unparalleled and easy. If you want quiet transportation, we have an entire line of spacious SUVs that where you can nestle into beautiful leather seats and let our skilled drivers take you where you need to go. Those looking for a rowdier night on the town can take advantage of our spectacular limousine offerings equipped with things like disco floors, mini bars, customizable light shows, hot tubs, and stripper poles.
Affordable Rates
With us, your charter bus experience will not spiral you into unfathomable debt. We strive to make sure that our customers can receive the best in luxury service without paying through the nose for it. Our customers know that by working with us they can always expect more for less.
To begin finding to perfect vehicle for your group, call us today at 1-800-339-8936!
Professional Service for All Your Travel Needs
We pride ourselves on being the perfect Hayward Charter Bus company for every possible occasion. Some of the more popular reasons for hiring us include:
Bachelor/Bachelorette parties
Travel to and from museums
Countless other destinations and excursions!
When working with Nationwide Limousine Service, your imagination is the limit, so call us now at 1-800-339-8936 and let one of our highly trained representatives help you make your charter bus experience the best it can possibly be!
Call
1-800-339-8936

for your free quote