Home Charter Buses El Cerrito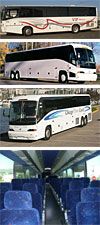 El Cerrito Charter Buses
Top-notch Transportation for Any Occasion
Are you looking for the most professional way to transport a large group around the area, or perhaps you are uniting with distant family and are in need of a way to get from A to Z? Regardless of the occasion, NLS Limo offers each and every on-ground transportation option you could hope for. Our fleet includes corporate sedans, limousine buses, and so much more. We have been serving El Cerrito for years, and our customer feedback demonstrates our abilities to go above and beyond and exceed expectations regardless of our clientele's needs. For example, guests have enjoyed El Cerrito charter buses while driving to and from:
Symphony orchestra concerts;
Opera performances;
Sightseeing adventures;
Bachelor and bachelorette parties;
Shopping excursions; and
Limitless other events, ranging from business to pleasure!
Professional Drivers and Luxury Charter Buses
Our drivers go through rigorous screening and training to ensure that they will not only offer your group the safest on-ground transportation, but they will also provide you with impeccable customer service. You will be greeted with a smile, and our crew will pride themselves upon your satisfaction. Regardless of whether you are seeking professional courtesies for business purposes or laid-back fun for a night on the town, our drivers will exceed your expectations while ensuring that your experience with NLS is comfortable and timely.
Our fleet excels in options, and despite our remarkably affordable rates, the list of amenities are many:
PA systems
Lavatories
More-than-ample legroom
Vast storage space
Flat screen TVs
Swanky leather seats
Impressively stocked mini bars
Laser shows
Disco floors
Hot tubs
LED lights
Dancing poles
…and many more features!
Our exceptional lineup includes but is not limited to limo buses, tour buses, classic limousines, and passenger buses that comfortably hold dozens of guests. To learn more about which vehicles offer which of the above amenities, contact Nationwide Limousine Service at 1-800-339-8936 today.
Reserve Your El Cerrito Charter Bus
Allow us to assist you with your group's ground transportation needs. We offer luxury and affordability, and our professional reservation specialists are available twenty-four hours per day, seven days per week, every day of the year. While we are always happy to consider last-minute bookings, our schedule can fill rather quickly, so call us today at 1-800-339-8936.
Call
1-800-339-8936

for your free quote