Home Charter Buses Castro Valley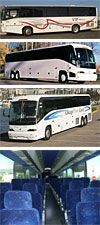 Castro Valley Charter Buses
Comfort In Professional Transportation
Whether you are looking to transport guests within the pleasant community of Castro Valley or you would like to travel in a group to San Francisco or beyond, Nationwide Limousine Service will meet your needs and exceed your expectations! Choose from our impeccably clean Castro Valley charter bus fleet. We offer a variety of impressive amenities including but not limited to:
Leather seats
Tinted windows
On-board lavatories
CD and DVD players
Flat-screen TVs
Generous legroom
Plenty of storage
Mini bars
Dancing poles
Disco floors
Laser shows
Hot tubs
Allow Us To Meet Your Group's Needs
We understand that each party has individual needs, and we are happy to offer a variety of delightful options. We realize that one size does not fit all! We invite you to choose from our impressive group of luxury coaches:
Call 1-800-339-8936 today to learn about the options above.
The Best in Customer Service For Any Event
We are locally owned and operated, and we pride ourselves on putting your wishes first. When you pick from our luxury SUVs, limousines, and charter buses, you will also be choosing our exceptional customer service. Our professional drivers are the safest in the business, and they value your time and enjoyment. Customers choose NLS again and again for events such as:
Castro Valley Charter Bus Reservations
If you are seeking ground transportation that is affordable yet lavish, contact Nationwide Limousine Service at 1-800-339-8936 today. We staff professional reservation managers who are waiting to assist you in choosing your ideal method of transportation. They are available 24 hours a day, 7 days a week, and they will have immediate answers regarding rates, amenities, and any other questions you might have. Thank you for allowing us to be a part of your important business matters, family events, and more!
Call
1-800-339-8936

for your free quote