Home Charter Buses Campbell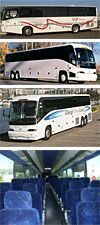 Campbell Charter Buses
Get to Your Favorite Sporting or Cultural Event
We have many exceptional Campbell charter buses in our fleet that can take you and your party to any destination. Whether you are planning a trip to a casino in nearby Nevada, or you need to get a group of employees to an out-of-town business meeting or seminar, we can get you there safely and on time.
The list of possible destinations we can serve is almost limitless. Our customers use our charter buses to schedule trips to area sporting events, like the Giants at Oracle Park or the 49ers at Levi's Stadium and the Raiders at the Oakland–Alameda County Coliseum. People use our services to get their groups to many Bay Area cultural events, like dance, theater and opera performances. Shopping excursions can be organized and our charter buses used to drop off and collect your group at the predetermined time.
We have a wide selection of Campbell charter buses you can choose to accommodate a range of groups including:
Perfect for Every Occasion
No matter what the occasion – maybe it's not a special occasion at all and you just want to enjoy a night out on the town with your friends – we can get you there safely and in style.
You can reserve our charter buses for any occasion including:
Our Amenities Can't Be Beat
There are many points of interest in and around the city of Campbell and Santa Clara County that you may want to organize a group to visit. Wherever you destination, we can deliver you there in luxury and style. Campbell charter buses have the cleanest buses and the friendliest staff and we also have the most competitive prices in the Bay Area.
Some of the amenities include:
Leather seats
Mini bars
CD stereos
Disco floors & dancing poles
Laser shows & LED lights
Call Us Today to Reserve Your Campbell Charter Bus Rental
Contact Nationwide Limousine Service today at 800-339-8936 for additional rental information. Reservations specialists are standing by 24 hours a day, seven days a week to answer questions about how we can make your trip a memorable one.
Call
1-800-339-8936

for your free quote