Home Charter Buses Burlingame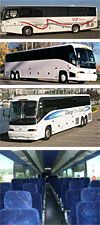 Burlingame Charter Buses
Enhancing the Functionality and Style of Your Big Event with Charter Transportation
When utilizing a luxury charter bus or van for an event, these transportation options can often enhance the functionality of the occasion. For example, most charter buses offer a variety of music and entertainment options onboard, helping to increase party goer energy and excitement. Also, the luxuriousness of leather seats, spacious indoor bathrooms, and warm mood lighting further enhances any occasion. Most Burlingame charter bus companies can always find a way of improving their clients' experience, whether it's for businessmen or prom attendees.
What's So Great About Luxury Charter Services?
Regardless of the type of the event, luxury charter buses can provide an immense amount of value to any occasion. There are two types of charter buses that can work for special events: party buses and limo buses.
Here are a few of the many amenities available in party buses:
An abundance of spacious luggage storage compartments
Tinted, dark windows for privacy
Up to 55 seats
DVD, CD, and iPod players
Party and mood lighting options
Karaoke machines and dancing poles
Leather seating options
Limo charter buses also provide these important amenities:
VIP leather seats
Alcohol options from personal bar
Spacious, modern restrooms
Conversational couches and seating options
DVD stereo and surround sound
Privacy dividers
Get In Touch With Us Today!
In order to provide you with the best quality service for your event, call Nationwide Limousine Service today at 1-800-339-8936 to determine your specific needs. We are eager to supply you with all the information and additional options you need to help increase the quality and value of your event. Your experience is important to us. Most individuals tend to book in advanced, so it is recommended that you contact us early in order to give you the best services you and your event truly deserves.
Call
1-800-339-8936

for your free quote