Home Charter Buses Brentwood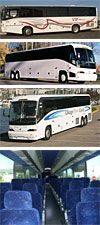 Brentwood Charter Buses
Transportation for Any Occasion
If you are considering chartering a bus to an event or attraction in Contra Costa County, or anywhere in the surrounding San Francisco Bay Area, consider Brentwood charter buses. We have a variety of options for transportation in our fleet and we offer the most competitive rates in the area. Our buses are clean and our driving staff is courteous and professional. When you ride with us, all your group needs to do is relax and enjoy the ride.
We have a wide selection of Brentwood charter buses you can choose from to accommodate a range of groups including:
Business or Pleasure
Whether you are organizing a group outing for friends or for members of your church or other social organization, our buses offer many amenities to help make the trip more enjoyable. If you run a business that needs to transport employees for either a one-day trip, or you need routine service, we can help you meet those transportation needs as well. Not only will you arrive on time for important business engagements, you will arrive safely in a clean bus with full amenities.
If you'd like to organize a trip to visit any one of the Bay Area's great cultural attractions, or you'd like to travel to a sporting event, our buses can get you there in style and luxury. Take a group to see a Giants baseball game or watch the Raiders or 49ers play football, any Bay Area sporting event is our destination if it is yours.
Other trip destinations could include:
Relax and Enjoy the Ride
Our buses are comfortable and feature ample space for both passengers and their luggage. There is plenty of room for the storage of golf clubs or ski equipment, and we have many options for entertainment onboard to make your trip an enjoyable one.
Some of the amenities include:
Leather seats
Mini bars
CD stereos
Disco floors & dancing poles
Laser shows & LED lights
Call Us Today to Reserve Your Brentwood Charter Bus Rental
No matter what the occasion or where you intended destination is, we can get your there safely, on-time and in style. Call us today at 1-800-339-8936 for rental rates and more information on your next chartered bus trip. Our reservations specialists are standing by around the clock, every day, to answer any questions you may have about booking a charter bus.
Call
1-800-339-8936

for your free quote