Home Charter Buses Blackhawk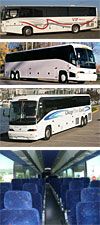 Blackhawk Charter Buses
Arrive in Luxury, Leave in Style
Blackhawk charter buses are an excellent option for transportation in and around Contra Costa County and throughout the Bay Area. Individuals use our transportation services for a variety of reasons, from shopping excursions and golf outings to sightseeing tours and trips to area amusement parks. Business and church organizations also use our services to transport their employees or congregation members from place to place. Whatever your need, wherever your destination, we have the transportation options for you, business or pleasure.
Other possible destinations include:
All About Your Business
Many organizations choose to use Blackhawk charter buses to get their staff from their work site to a conference or seminar or even to transport them out of town for a retreat or training program. With an onboard PA system, employees can be kept informed of event schedules. Employers appreciate not having to worry about the travel logistics, so they can focus on running their training seminars or board meetings.
That's Entertainment
Of course, we don't just cater to the business community. Many folks use Blackhawk charter buses to organize fun trips to amusement parks, sporting events and casinos. Getting there is half the fun, they say, but getting there on one of our charter buses just might be the most fun you'll have on your entire trip. There are plenty of things to do onboard to keep passengers occupied. We have amenities that run the range from simple entertainment, like flat screen TVs, to much more luxurious features like hot tubs and disco floors for dance parties. How much fun you have on your ride is up to you and your group.
Our amenities include:
Leather seats
Mini bars
CD stereos
Disco floors & dancing poles
Laser shows & LED lights
We have a selection of Blackhawk charter buses you can choose from to accommodate any size party, including:
Call Us Today to Reserve Your Blackhawk Charter Bus Rental
Let us get you to your next business or social event. Call us today at 800-339-8936 for rates and information on your next charter bus trip. Reservations specialists are standing by 24 hours a day, seven days a week to answer any questions you may have and to assist you in your booking.
Call
1-800-339-8936

for your free quote