Home Sporting Events Golden State Warriors
Golden State Warriors Group Transportation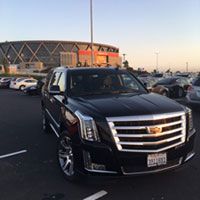 Now is the time to pay attention to the Golden State Warriors. Located in Oakland, California, this NBA team is a member of the Pacific Division, and they play at the Oracle Arena. These stars are now celebrating their 53rd anniversary of San Francisco Bay Area ball-playing, and they are one of the top teams in the brutal Western Conference along with the Memphis Grizzlies, the Los Angeles Clippers, the Houston Rockets, and the Portland Trail Blazers.
Coached by Steve Kerr, the warriors play an up-tempo brand of basketball featuring MVP-candidate Steph Curry. Other notable players include Australian Andrew Bogut, Los Angeles native Klay Thompson, 2012 NBA All-Star Andre Iguodala, and others.
Call Nationwide Limousine Service today at 800-339-8936 for more information on our group sporting event transportation!
The History Of The Mighty Warriors
Formerly known as the San Francisco Warriors and before that the Philadelphia Warriors, they won the league championships in 1947, 1956, and 1975 after having been founded in Philadelphia, PA in 1946.
More recently, the Splash Bothers era sparked unprecedented success and an exciting style of play. The team's fortune took a turn for the better in the 2012 draft when they selected small forward Harrison Barnes with the seventh pick, center Festus Ezeli with a thirtieth pick, and the small forward Draymond Green with a fifth pick. Also notably, in 2012, the team acquired Andrew Bogut from the Milwaukee Bucks.
Ride to the game in style with a luxury Golden State Warriors charter bus rental from NLS Limo!
A Smashing 2014/2015 Season
The team's coach, Steve Kerr, most famously played with Michael Jordan and the Chicago Bulls during their historical championship run, and he played with the impressive San Antonio Spurs. In fact, Kerr is a 5-time NBA champion. He was one of the best 3-point shooters in NBA history, and in 2014 he brought his winning ways to the Golden State Warriors.
In 2013, all-star Stephen Curry was nicknamed the Baby Faced Assassin when he nailed 272 three-pointers for the all-time single-season record within the National Basketball Association.
The basketball team began their regular 2015 season on October 29th by beating the Sacramento Kings 95-77. The recent success of this Bay-area team has made them one of the pre-eminent NBA squads.
There are high expectations for the Warriors in upcoming years, and the fans are reciprocating the high level of energy.
Golden State Warriors Group Transportation
Contact Nationwide Limousine Service today at 800-339-8936 for additional information about our Golden State Warriors group transportation, including coach buses and tour buses! Go Blue and Gold!
Additional Golden State Warriors Resources
Call
1-800-339-8936

for your free quote