Home Sightseeing Tours Deluxe Napa Tour
Deluxe Napa Tour
Napa Valley boasts some of the most beautiful landscapes in all of California and is home to the country's most famous vineyards. To really see it all, you should let someone else do the driving so that you can sit back and relax, enjoy the drive, and live without the stress of trying to get everywhere when you don't quite know where to go. At Nationwide Limousine Service, we are ready to help you with that by offering our Deluxe Napa Tour - long enough to go see everything you want and fully customizable.
To learn more about our Deluxe Napa Tour and our flexible rates, please contact us by e-mailing us at [email protected], or calling one of our friendly representatives 24 hours a day at (800) 339-8936.
Customizable Options
The best part of our tours is how flexible they are. You can completely customize the Deluxe Napa Tour so that you feel you are getting the best deal for your money, whether you are renting a tour bus or a simple but elegant luxury sedan. The customizable options include:
Length of your tour - While the Deluxe Napa Tour is generally longer than our Napa A La Carte Tour, you can customize the length of your tour to be as long as you'd like it to be.
Type of limo rented - If you need a limo bus or a party bus for a large group of people, you can rent one for your tour as easily as if you rented a stretch limo or a classic car for one or two people, whatever makes you feel more comfortable while going on your magnificent tour.
Places you visit - If you want to go to certain vineyards in Napa Valley, you can certainly go to any vineyard you want. Where you go on your tour is completely up to you and your personal desires.
Some Places of Note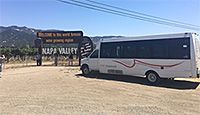 If you've never been to Napa Valley before, you will want to think about the places you want to go. Some of the places you might think about visiting are:
All of these places are just a starting point. You should do your own research or ask friends that have already visited the area. With our limo tours, you can be sure that you will have a memorable vacation.
---
Deluxe Napa Tour Photo Gallery
Click to view our full Deluxe Napa Tour Photo Album
Call
1-800-339-8936

for your free quote